Vietnam is a culturally rich country with a diverse landscape. It may be impossible to visit the entire country in 5 days. You can instead focus on a specific region in order to get a fully comprehensive experience in such a short period. Visiting the Northern part of Vietnam comprises of a complete blend of experiences from exquisite cuisine of Vietnam to viewing historic sites and landscapes to indulging in some adventure. Option to choose a package tour is reasonable if you are not fluent in this country.
Halong Bay
You can also take a Halong Bay tour. You have the option to take the one-day trip or the two-day trip. The one-day trip is a shorter version of the more popular 2-day trip with the highpoint being the Heaven Palace Cave. The more detailed 2-day trip allows you to kayak, swim and visit the spectacular sights such as the Limestone Karsts, Surprise Caves and Titop Island. This cruise provides you with breakfast lunch and dinner as well as fun activities such as movies, games and massages.
I offer these tours from Viet Fun Travel: https://vietfuntravel.com/ha-long-bay-tours

Hanoi
Start your travels by flying into Hanoi. Hanoi is Vietnam's ancient capital city filled with culture, delicious street food and museums. Places you should definitely consider visiting are:
Old Quarter – you can find medicinal herbs and luxury silks here
Hoan Kiem Lake – a lake in the centre of Hanoi
Ho Chi Minh Mausoleum and Museum – a mausoleum honouring the national hero President Ho Chi Minh
One Pillar Pagoda – a historic Buddhist temple designed to look like a lotus blossom
Temple of Literature – a temple dedicated to Confucius
St Josephs Cathedral –a neo gothic styled cathedral
Opera House- a cultural and architectural monument. Art shows, concerts and dance performances are performed here
West Lake- a fresh water lake located in the centre of Hanoi for recreation
Lai Chau
Lai Chau is a village situated 150 km from Hanoi. Homestays in this village surrounded by beautiful mountains is the most popular way of experiencing the authentic Vietnamese way of life. You can live with a local family and immerse yourself in their way of life. Most people stay here for one or two days.
Sapa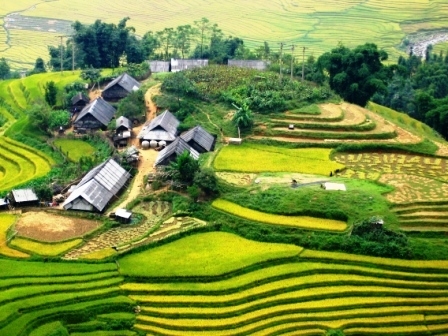 Is a breathtaking village located in the North West Region of Vietnam. It is also known as the "Tonkinese Alps" Sapa is filled with stunning views, rice fields and different hill tribe minorities. You can get to Sapa by taking a night train from Hanoi that departs around 8 – 10 pm.
Ninh Binh
Is located only 90 km from Hanoi. It boasts of gorgeous limestone scenery. At Ninh Binh you can visit:
Hoa Lu – The ancient capital of Vietnam
Tam Coc Grottos – an excursion trip that takes you on a boat to visit two sites the Bich Dong Pagoda and the Tam Coc Pier
Cuc Phuong National Park- a rainforest reserve housing primates to release back to the wild. There is also a botanical garden and a turtle centre there.
Hang Mua Peak – The top allows you to view a 360o view of the region surrounded by the Red River Delta and mountains.